Want a cup of coffee in the morning for a refreshing mood? Morning shows the day. If you start a happy morning, the whole day will become successful with activities. Coffee might bring an optimistic day for you. It's a French Press plunger to brew a perfect cup of coffee.
As a coffee lover, you can't compromise the taste of your daily joe a bit. If you want to use French Press, you must have to know how to assemble a French Press coffee maker. 
In 1852, two French men Mayer and Delforge formulated this coffee maker for the first time. Another French man Ugo Paolini in 1923, expanded the intention of making pot with a press action and filter. But it could not reach people's interest until Italian designer Attilio Calimani invented the design in 1929. After that time French Press became popular.
What is a French Press?
French Press coffee maker is a classical coffee brewer device. It's a pot with a filtered mechanism. Generally, it is also called Coffee plunger pot, Coffee Press,  and Cafetiere à piston in French. It can work for Coffee, Tea, Herbs as you demand.
Though primitive coffee makers were not equipped with electric power, they can provide you with the exact taste of coffee beans. It can deliver you the purest form of Coffee which is dark, deep, and full-flavored.
What is the Purpose of a French Press?
French Press uses pressure to the bottom for brewing the coffee properly. It makes thick and aromatic coffee. It allows the oil of coffee beans volatile with hot water. The real aroma of grounded coffee comes from its oil. The process of coffee brewing appears so easy for us but in the 20th-century it may be very hard for competitive companies.
French Press can make awesome coffee like a high priced espresso machine. Paper filters of drip machines bring out most of the oil and flavor of ground coffee. But French Press never soaks up this flavor of coffee which increases the total taste.
Parts of a French Press
French press parts are not complicated or massive but a handy and easy mechanism is applied to them. There are three main parts of a French press. A carafe, a plunger, and a stand.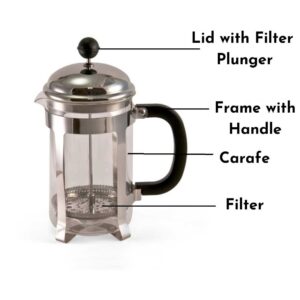 A carafe is mainly a glass, plastic, or metal pot instead of a coffee maker. Different sizes of carafe hold different quantities of coffee. You can find a variety of shapes of attractive looks.
A plunger rod is a small mechanism of the filter. There is an extended top of the lid and a structure disk on the bottom.
The structure disk consists of one or two filter screens and a coiled wire holds the screen.  You have to push down the plunger and the fresh brew coffee will appear in the upper part of a carafe.
The stand holds the carafe to handle it comfortably.
How to Assemble a French Press
French Press assembly is the most significant part of Coffee brewing. Disassembling and reassembling is a vital part of protecting the parts of the French Press.
If you need to assemble the French Press, be assured that the next cup of coffee will be the same high-quality flavor as the first one. There is a step by step guide on how to assemble French Press after cleaning:
Step-1: Remove all grind coffee
Before starting the cleaning procedure, take out all coffee from the pot. Then, you have to bring away all grinds of coffee from the French Press. It is not a simple job. If any textures of coffee are left inside French Press, it will be difficult to clean up.
Tapping gently the bottom of the press to keep out all grinds. Whether you have seen some ground coffee still stuck inside. That time you can use a wooden spatula, but never use steel spatula.
It may cause harm inside the French Press. Then, You can wipe French Press glass container with a piece of cloth. Do not use any chemicals for cleaning, either it will spoil the flavor of the coffee.
Step-2: Taking apart the French Press and washing
In this step, you can wash out inside of the French press. Plenty of water required to clean it up entirely. Now you can take apart the pressing disc and you can peel off all the grind coffee inside.
On the other hand, it may fix inside the wall of the French Press. The Fact is that there is no strategy to clean it 100%. Below the running water clean the plunger, beaker, and other parts carefully outside and inside also.
Still, now you may get some grind stuck inside the spring disks. At that time you can use mild soap for washing. But some experts are against using soap, they suggest using baking soda instead of soap.
Step-3: Scrub inside
Accordingly, you can use a soft cloth, brush, or sponge to rub the existing moisture of all parts of the French Press. Plungers and filters are also included there.
Be careful that any surplus of detergent or baking soda is not left inside the container which may corrupt the coffee taste.
Step-4: Use a cloth or hair dryer for drying it
Extensively, after cleaning you have to dry out the French Press. It is the most significant part of assembling a French Press. For this drying process, you can use a hand or hairdryer for the continuous progression of air.
Every particle has to wipe out fully before setting it again. After drying out completely, it is ready to assemble again. Now you can begin to utilize French Press for Coffee brewing like before.
Secrets of French Press Assembling
If you are not good at craftsmanship, it is a very hard job for you to organize the French Press like before. The components of the French Press have very little gap one to another. So, you have to be more careful this time.
The main thing is that you have to clean the beaker from the holder first, then dried up. After that, the retaining disc should be screwed properly and the French Press gets back its placement situation.
Arrangement to set up a coffee filter is also a prominent matter here. You have to put the filter up to the retaining disc.  From this, you can get a chance to discover spring discs. Now the entire cycle is operating appropriately. French Press is ready to make your tasty coffee now.
Bodum French Press Assembly Instructions
There is so many French Press available in the market. Bodum French Press is one of the popular devices in which one is recommended by most of the coffee lovers.
In a Bodum French Press, we got some components which are glass carafe, cross plate, mesh filter screen, spiral plate, lid, and plunger.
How to Put Bodum French Press Back:
If you want to assemble this French Press you have commemorated the following tips:
First, take the Bodum glass carafe and clean it with water properly. Be careful to shift the glass part, otherwise, it may be broken.

Then hold the Bodum mesh filter screen and keep it on the Bodum cross plates. This cross plate can keep the mesh filter screen in the right place.

Then you have to keep the Bodum spiral plate on the top of the filter screen.

Hold the plunger and wrench the connecting portion at the bottom of the cross plate to make it tight.

Then, you can attach a cross plate, spiral plate, and filter with a plunger. Now it is ready to slide up and down.

Currently, your Bodum French Press is ready to deliver you delightful coffee.
Video on How to Assembling your Bodum French Press
Final Word
Coffee lovers have to spend time assembling French Press properly to get an extraordinary cup of coffee every time. Though it is not tough the best of all, there is a controversy for constantly cleaning and assembling French Press.
But those who clean their French Press daily, this coffee maker may last long. Perfect cleaning and assembly duly will ensure that the taste of Coffee will remain the same.
If you understand how to assemble a French Press, then it is the best process to get good flavored coffee. So be careful to assemble this coffee maker and enjoy your favorite coffee as always.
Related Articles